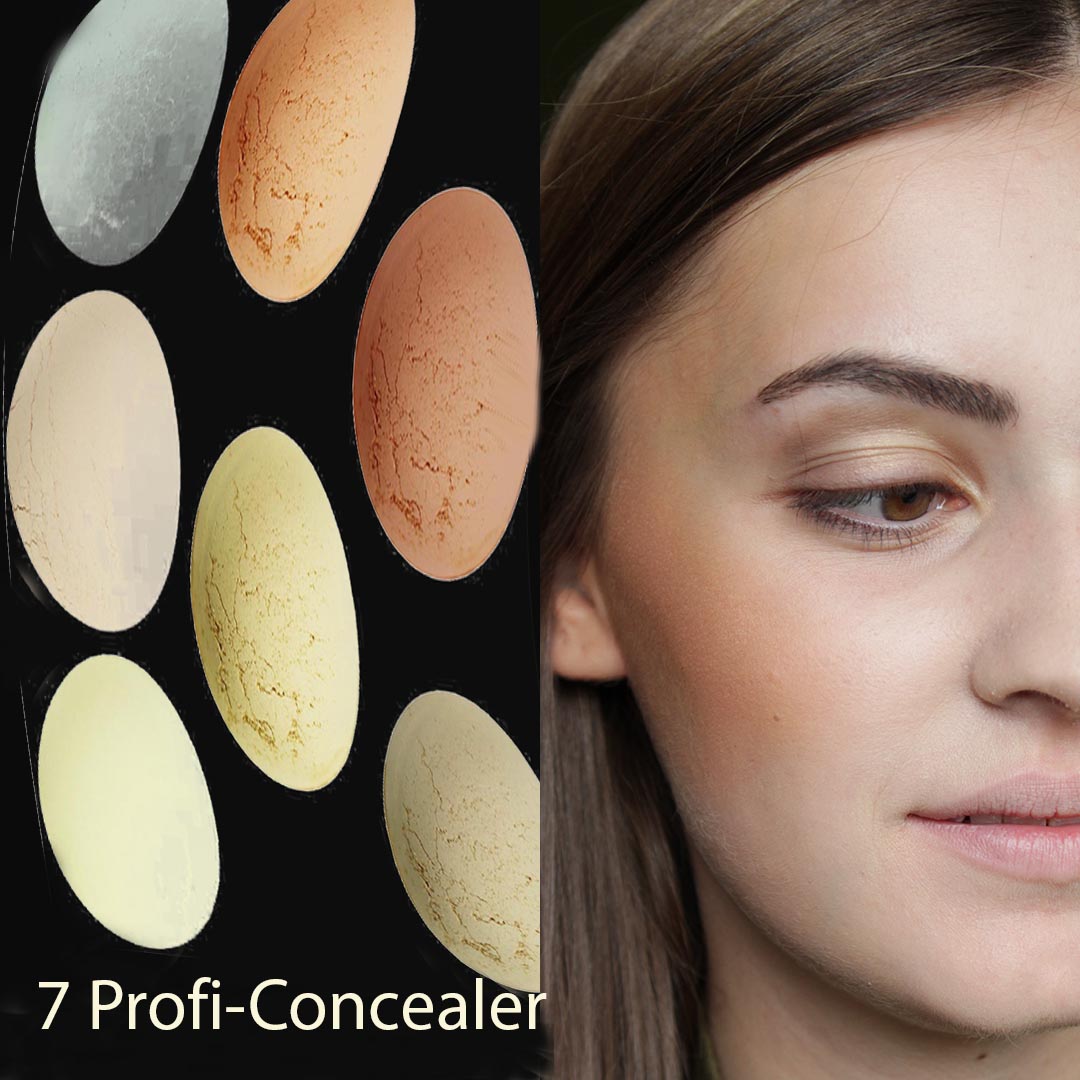 Concealer
Perhaps you are constantly struggling with skin redness or problematic skin and sometimes prefer not to be seen up close. I've experienced this myself - and got a grip on it with mineral powder.

Our product range offers the right shade for every skin type and every skin need. It really exists, the concealer that adapts to the skin tone. Because mineral powder has the property of merging with the skin without clogging the pores. But on the contrary. The fine pigments allow the skin to breathe and at the same time give an incredibly even, radiant complexion.

We offer you three types of concealers in our range:

Classic Concealer with strong pigmentation (HD-compatible),
HD concealer for professional Make-up Artists and
INTENSE concealer (also HD-compatible) with particularly high coverage.
What do you put on first, make-up or concealer?
If you use our INTENSE foundation series, we recommend that you apply the foundation first and then the concealer. So you can blend both perfectly and achieve a natural No-Make-up look with ultimate coverage at the same time.

Proceed in exactly the same way as when using our mineral powder foundation:

Put a small amount of the product in a glass or porcelain bowl.
Pick up the powder with the brush and stir in the bowl with the brush.
Patch the powder with the brush in circular movements on the desired areas your skin.
Enjoy the incredible coverage effect!
Which concealer shade is right for me?
Let's take a little excursion into color theory. It is about the principle of complementary colors. There are always two of them that, when mixed, extinguish or turn gray. Red and green, for example, are such colors, as are violet and yellow as well as orange and blue.

We'll explain it using our three classic concealers as an example:

• Yellow is complementary to violet and is therefore perfect for covering blue-purple shadows under the eyes.
• The greenish Mint (Mintgreen) is complementary to red and therefore the ideal concealer for removing make-up from reddish pimple scars, couperose or redness.
• The all-rounder Beige is the right choice for tinting blemishes or as a second layer over the concealers mentioned above. It can also be used for dark circles and all over the face.

Tip: You can use our powders to create your own color correcting cream if required. For reddened skin, for example, simply mix a pinch of mint green with some powder foundation and a small amount of your day cream — and your DIY product is ready!
Which concealer is right for me?
In the following overview you will find the right product for your skin type. You can get more information on our Color Check page.

Problem: deep-seated wrinkles, older scars, redness, shadows under the eyes
Skin type: cool-toned skin, light, medium, dark
Matching product: INTENSE Topaz

Problem: Deep wrinkles, scars, redness, shadows under the eyes
Skin type: Yellow-toned skin, Light, Medium, Dark
Matching product: INTENSE Citrin

Problem: Shadow under the eyes
Skin type: Warm to yellow-toned skin, light, medium, dark
Matching product: INTENSE Karneol

Problem: pigment spots, shadows under the eyes
Skin type: Cold, especially bluish skin, light, Medium, Dark
Matching product: INTENSE Opal