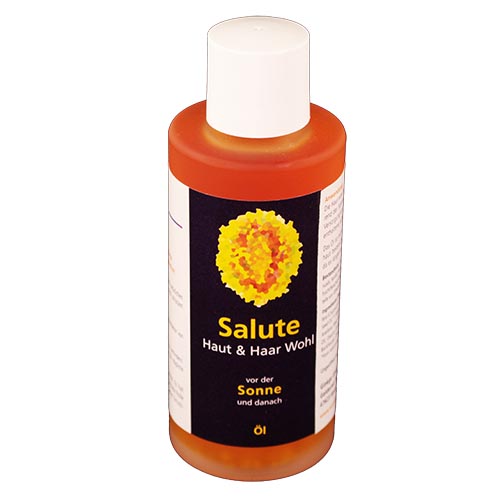 Salute skin- hair- and sun-oil
Von Susanne Kehrbusch entwickelt: Ein Pflanzenöl als optimale Unterstützung und Pflege für das ganze Jahr. Gern auch während und nach dem Sonnenaufenthalt. In dem Salute Öl wurden alle rein pflanzlichen Lichtschutzfaktoren vereint, die ganzheitlich
Product information "Salute skin- hair- and sun-oil"
Von Susanne Kehrbusch entwickelt: Ein Pflanzenöl als optimale Unterstützung und Pflege für das ganze Jahr. Gern auch während und nach dem Sonnenaufenthalt.
In dem Salute Öl wurden alle rein pflanzlichen Lichtschutzfaktoren vereint, die ganzheitlich von den Pflanzenölen und Extrakten ausgehen.
Bestandteile:
Jojobaöl kbA, Cocosöl kaltgepr. kbA, Cupuacubutter, Rhizinusöl, Senföl, Forahaöl, Avellanaöl, Arganöl, Kukuinussöl, Karotinöl, Sanddornfruchtfleischöl kbA, Lemonmyrthe, (Citronellol, Geraniol, Linalool = Bestandteile von ätherischen Ölen).kbA = aus kontr. biolog. Anbau

Ingredients: Oleum of Buxus chinensis, Cocos nucifera, Theobroma grandiflorum, Ricinus communis, Brassica alba, Calophyllum inophyllum, Gevuina avellana, Argania spinosa, Aleurites moluccana, Daucus carota, Hippophae rhamnoides. Backhousia citriodora, (Citronellol, Geraniol, Linalool).