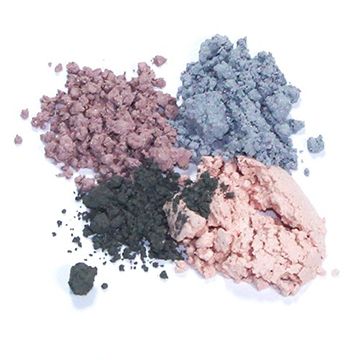 Our INCI's (ingredients)
Vegan by nature - sustainable - certified - transparent

We pay attention to the use of the purest raw materials, such as powder, wax and oils and purified pigments. Child labor is taboo for us and our raw material suppliers. We have also managed to keep palm oil out of all raw materials. We do not use talcum - even if it is a natural product - and of course no mineral oil (also a natural product). Our powders are gluten-free and halal (no animal ingredients, no alcohol). All products are made in Germany and have an almost endless shelf life.

Our certificates are:
the vegan Flower from the VEGAN SOCIETY from UK;
the bunny from PETA;
the premium certificate for organic and natural cosmetics "natural"
as well as the certificate "clean product" - both from ICADA.
Unfortunately, the large number of ingredients in conventional cosmetics leads to a closer look at what is NOT in it. What we have in there are just a few ingredients (usually just three) plus mineral pigments.

This is the list of the most important substances that are found in most make-up products, but which ANGEL MINERALS is free of:

acetone
alcohol
azo dyes
gluten
hormone-impairing substances
preservatives
lactose
microplastics
mineral oil
Palm oil
Parabens
Paraffin
PEG's
Silicones
Sulfate
Animal utilization substances, such as horn, hooves, urine, bones, hair, etc.

Moreover, are these substances, which are often contained in other mineral powders, are taboo for us:
bismuth (also called wismuth)
corn flour
rice flour
talc
nanoparts (microniced)

It is also important to know that our products contain no oily ingredients and are therefore non-comedogenic. That is why they are so well tolerated in the case of existing acne. My acne even went away with the powders.

And they are CLEAN BEAUTY and are VEGAN.

"Clean Beauty" stands for products that are not tested on animals and that do not contain any ingredients that are discussed as harmful to health. The "clean" does not stand for "better than", but for "free from". CLEAN BEAUTY does not mean "from nature" or "free of any synthetic ingredients", but meets the certificate standards of natural cosmetics.

Contained color pigments according to CI numbers:
The "CI" means Color Index. A specific number was specified in the Cosmetics Regulation for each of the color pigments. These are the same worldwide.

CI77007 Ultramarine blue (inorganic, strong blue glowing pigment) - reproduced identical to nature.
CI77019 ; Mica (mica group) Also reproduced in a nature-identical manner. This allows us to be sure that there is no child labor in the end product.
CI77491, CI77492 + CI77499: Iron oxides
CI77510 Pigment Blue 27 (blue dye from synthetic pigments)
CI77891 Titanium dioxide (not in nano size!) - nature-identical.
CI77947 Zinc oxide (not in nano size!) - nature-identical.

Natural ingredients ...
... are the result of chemical reaction processes approved within natural cosmetics on exclusively natural ingredients.

Natural-identical ingredients ...... are minerals, pigments or natural preservatives that occur in nature but are reproduced in the laboratory. However, their molecular structure is the same as that of real minerals. Man-made ingredients are NOTallowed. Due to the nature-identical reproduction in the laboratory, the ingredients are controllable, cleaned, colorfast and resource-saving. The sustainability value is such that they do not burden our earth and the mountains are not mined for them.

A few more words about TITANIUM DIOXIDE (CI77891):
Last status, What was crucial for me to use is that CI77891 only falls into the category of harmful substances (possibly carcinogenic) if it is contained as an ingredient in the size of nanoparticles (nanoparts), i.e. extremely small. That's when they say it can reach the lungs or break through the walls of the intestine.

The titanium dioxide we use, however, contains the individual particles so large that they are excreted if swallowed. The ratio of the sizes is about the same as a Fiat 500 against a double truck.

In sunscreens, however, titanium dioxide is often used in the form of nanoparts and these have the same effect even though they are applied in cream form, i.e. are not inhaled as a powder or spray. Therefore, pay attention to the designations in the INCI's for your products: "microniced" or "nano". Every manufacturer has been obliged to communicate Nanoparts to consumers in this way since 2009.

Packaging:
The plastic jars that we use, along with other materials, are ISO 9001 certified and contain notoxic substances. The plastic consists of a single material - so-called mono-plastic - and is not a mixture of countless non-recyclable materials. Our cans are recyclable.

After a long search for alternative materials, we've finally found something we're really happy with:

A stable paper jar (degradable + recyclable).
It is: 100% plastic-free
100% metal-free
100% recyclable
100% ecological

It is part of our sustainable program to do more and more without plastic. This already consists of:
Refill bags made of glassine (100% biodegradable);
Reusable glasses for the mini lips instead of a lipstick;
Compact eyeshadow in a paper box instead of a plastic box.

You can do without information brochures with every order (for comments). We don't want to unnecessarily burden the environment with permanent paper production.